*
Indianapolis, IN
*
April 5th & 6th, 8pm
The very best musical theater made famous on the musical stage!  Click here for pictures from the sold out shows!  And click here for the rave review received by the Examiner!
Greg Sanders, conductor
Jacquelynne Fontaine, special guest
Claire Wilcher, special guest
__________________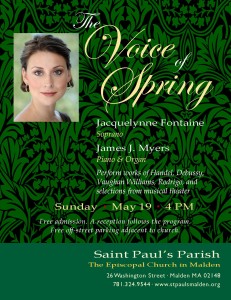 The Voice of Spring
In Recital with James Meyers, Piano
*
*
Sunday May 19th, 4pm
Performing works by Handel, Debussy, Vaughan Williams, Rodrigo, and selections from Musical Theater!  Free admission. A reception follows the program.
Having collaborated with James Meyers for several years now on the West Coast and in Boulder, CO, I am very excited and honored to perform with him again in Boston!
__________________
*
Beverly, MA
*
June 11- June 23rd
James Brennan, director
The final collaboration between Rodgers & Hammerstein was destined to become the world's most beloved musical. When a novice nun proves too high-spirited for the religious life, she is dispatched to serve as governess for the seven children of a widowed naval Captain. Her growing rapport with the youngsters, coupled with her generosity of spirit, gradually captures the heart of the stern Captain.  The show's finale is one of the most thrilling and inspirational ever presented in the theatre.
Miss Fontaine will be playing the role of Elsa Schrader.
__________________
October 7th, 2009